Look around. What doesn't work for you anymore?
What are you tired of seeing? Are you ready to freshen up your home?
Are you overwhelmed with too many choices?
Do you need help renovating your project?
I'll explore your style, color preferences, lifestyle, how you plan to use the space, and how to achieve that within your budget. Every project begins with an in-home consultation. Click on one of the options below for more details on how to get started!
Services
Expand each to see detailed information on my various services
Design Consultation + Color
Have you been thinking about freshening up a room or your entire home? Maybe you've saved some pictures, created some Pinterest boards, but don't know where to start of what it will cost. Not sure how it will all come together and flow?
I can help! When you schedule a design consultation with me, we'll walk through your home together. I'll make recommendations for improving each room. Think of it as a decorating crash course. You can take notes or even record our conversation.
I'll also get to know your needs and style through a series of questions that will help me understand your vision for each room and how you plan to use the space. Before our visit, I'll have you fill out a short survey,
You'll save money, time and frustration because you'll make the right decisions the first time. I'll recommend pieces, accessories and even paint colors based on your personal style and design goals.
At our session, you'll get a report with:
Ideas for working within your budget
Recommendations can include furniture, lighting, flooring, window treatments, paint colors, artwork or anything else you need to start making your renovations.
Actual paint color recommendations along with a Pinterest (board) demonstrating ideas we discussed
A plan of action if you need to work in phases to update the space
Please note the consultation does not include any physical design work such as re-arranging furniture or styling. After the consultation we can discuss any future design services needed to meet your budget.
Project manager with a design pro
Yes, this designer can also be your general contractor! With 20+ years of building experience, I can get it all done with my team of skilled tradesmen, fabricators, and installers.
Prior to our meeting, I will need to learn a little more about you and your project. Please click here for a short survey.
This option includes all of the services of a color & design consultation plus:
Shopping trips to choose materials, paint, furniture, accessories and other items needed
Bidding the job with the finishes we choose together, so you get an accurate bid.
Ensuring that all design features are translated to subcontractors
Managing all of the decisions to keep your project on time
Ensuring that all materials and subcontractors (Carpenters, cabinet fabricators, HVAC, electricians, countertop installers, plumber, etc.) arrive on time.
Ensuring all subcontractors are performing to your specifications and keeping the timeline.
Handling daily issues and questions that arise during the construction process
Please note: There is not a consultation fee if you use my services as a general contractor, if you decide not to use me after I have bid the job, then there will be a $500 fee for design consultation and bids.
Color Consultation
Ahhh…that perfect elusive paint color palette!  Do you have paint paralysis? Maybe you have no idea what will work, or you know what colors you like, you have dozens of paint chips, watched HGTV, and browsed HOUZZ and Pinterest for hours, but you still can't commit. It's a little overwhelming.
As a certified True Color Expert, I will bring a full set of paint boards to your home and together we'll look at room flow, tones of existing fixed elements such as flooring, furniture, cabinetry, and select the perfect paint to complement these elements and tie it all together.
At the end of our consultation you'll have a clear direction along with specific wall color recommendations for your project.
New Construction Home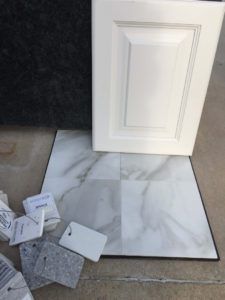 If you're going to spend the money on a custom home, you might as well get what you want. And you probably don't want it to look like a "spec" home with the same colors, finishes and trim in every other home that is built.
For the past 23 years, I have been working with our company, Ryan Homes and Development, and of course I would want you to use our company to build your home, but I understand that sometimes there is a reason you have chosen another builder. So, for the past 6 years I've offered my services to customers working with other contractors. Whether you work with me on your plan or on your finishes I will assist you in every aspect from space planning to paint colors. I will help you with your plan based on some of the following:
You want your home to be unique to you and also have a good flow. You will have to make hundreds of decisions during the building process. It can be quite overwhelming. Following are just a few of the decisions I can help you with:
Flooring options
Cabinet layout, style and countertops
Bathroom
Kitchen back splashes
Carpet, pads, and rugs
Cabinetry and tops
Light fixtures and electrical layout
Plumbing fixtures
Stair parts
Doors and trim
Knobs/hinges
Paint colors and finishes
Exterior colors (brick, stone, siding, front door color)
Too many people wish they had made simple decisions during the building process—because changing them later was costly, frustrating and inconvenient. I will help you make small decisions during building that will make a big impact on the style and functionality of your new home for years to come.
A la Carte Services, $100 hour (min. 2 hours)
Sometimes you just need a professional opinion, or a little help making a decision. Whether you're installing a backsplash or choosing flooring, I can help you make the right decision based on your budget, style preference and goals for the space.
Interior finishes (flooring, carpet, tile, wood, stone)
Exterior finishes (brick, siding, roofing, entrances, doors)
Furniture arrangement (existing or new furniture)
Paint color selection (interior and exterior)
Accessorizing (shopping, selecting and placing, existing or new)
Choosing, framing and hanging artwork (yours or new)
Wallpaper selection (Online or in-store shopping)
Window treatments (fabric, weight, color, style and type)
Furniture and fabric (shopping and selecting style, color, fabric, type)
Kitchen counters and cabinets (designing and shopping)
Kitchen tile and backsplash (selecting materials, color, design)
Plumbing fixtures (bathrooms, kitchens, laundry rooms)
Electric and lighting placements (recessed, hanging and table lights)
Staging
Whether you're a homeowner getting ready to sell or a real estate agent working with a client, you want to present a home in its best possible light. A well-staged home sells 3 times faster and for 6-17% more. Further, realtors are more likely to show a house that looks move-in ready.
Staging services can range from A simple consultation to give you tips for decluttering and rearranging, to a full redecorating. Because each situation is different, a consultation is required to determine the extent of the work, set a budget, and agree on a timeline.
Please contact me for a free quote.